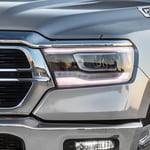 Despite being labeled as a popular light duty pickup truck, the all-new Ram 1500 actually performs more like a heavy or super duty pickup thanks to its impressive towing power. You can load more than 12,000 pounds onto the trailer hitch and not faze the truck's engine or body in the least.
To help you tow safely, the 1500 also has an integrated stability control system that monitors the wheels for any signs of slipping. If it detects slipping, it activates the truck's anti-lock brake system to keep your trailer upright and the truck on the road. It also comes with hill start assist to apply brake pressure if your truck is parked on a hill. It prevents the emergency brake from slipping and causing your pickup to roll downhill.
Appreciate all that the new 1500 from Ram has in store for interested buyers like today. Test drive one now.